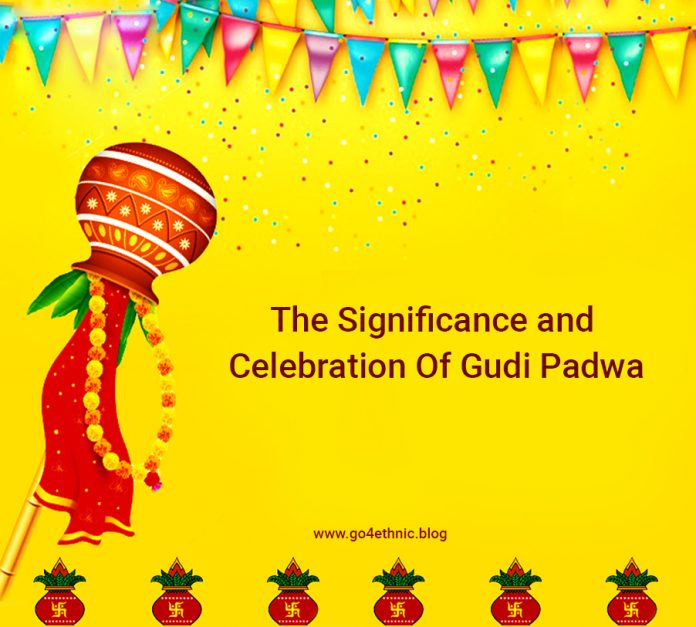 Gudi Padwa is one the most celebrated Indian religious festivals that marks the beginning of the Hindu New Year as per the traditional lunar calendar. Gudi Padwa is celebrated on the first day of Chaitra Shukla Pratipada (meaning the first day of the Chaitra month) . The festival marks the advent of spring. Sri Krishna says in Srimad Bhagvad Gita (The Ancient Hindu Sacred Holy Book), cantos 10.14 – The Opulence of the Absolute
yad yad vibhutimat sattvam
srimad urjitam eva va
tat tad evavagaccha tvam
mama tejo-'msa-sambhavam
SYNONYMS
yat yat—whatever; vibhuti—opulences; mat—having; sattvam—existence; srimat—beautiful; urjitam—glorious; eva—certainly; va—or; tat tat—all those; eva—certainly; avagaccha—you must know; tvam—you; mama—My; tejah—splendor; amsa—partly; sambhavam—born of.
MEANING
Know that all opulent, beautiful and glorious creations spring from but a spark of My splendor.
Gudi Padwa augments the springtime festivities in India. As described in the Srimad Bhagavad Gita, the spring has important relevance in the creation of flowers and fruits and all that is in opulence and bountiful is the manifestation of Sri Krishna. The beauty of the spring is marked by the fragrance of the varied colorful flowers in bloom, the glory of the morning sun greeted with the chirping of the birds, the sight of morning dew on plants and leaves along with fruit laden trees. This festival has its own cultural essence; a local festive fervor with beauty of sunny skies, cool breeze caressing the fields and Mother Nature at its resplendent best.
As per the traditional Hindu Calendar, the New Year, New Month and New Day start from Chaitra Shukla Pratipada. This day has lot of natural and spiritual significance in connection to spiritual science and Hindu mythology. Given the vast diversity of India, the auspicious day is celebrated as Gudi Padwa (in Maharashtra), Ugadi or Yugadi (in Karnataka and Andhra Pradesh). In other parts of India, the augment of spring is celebrated as Baisakhi (in Punjab), Cheti Chand (Sindhi), Naba Barsha (in Bengal), Goru Bihu (in Assam), Puthandu (in Tamil Nadu) and Vishu (in Kerala).
The Mythological and Historical Significance of Gudi Padwa
According to the Holy Hindu Scripture Sri Brahma Purana; Sri Brahma Ji, one of the Hindu Trinity Gods recreated the Universe on this auspicious day, that marked the beginning of Satyuga. Sri Brahma is worshipped on the day of Gudi Padwa. Another beautiful tale of mythological relevance is that the origin of festivities of Gudi Padwa marks the victory of good over evil by the return of Sri Rama along with His consort Sri Sita and younger brother Sri Laxman to Ayodhya after defeating Demon Ravana and completion of 14 years of exile. The 'Brahmadhvaj – flag of Sri Brahma' in form of Gudi is hoisted in the memory and celebration of the coronation ceremony of Sri Rama. It is also believed that Sri Rama was victorious over King Bali on this day.
This historical significance of Gudi Padwa is celebrated in Maharashtra in connection to Chhattrapati Shivaji Maharaj, the great Maratha leader who led his troops to victory from the dominion of the Mughals. The celebration of Gudi Padwa represents victory and prosperity on this occasion.
The Meaning and Symbolism of Gudi in Maharashtra
The word Gudi represents Sri Brahma's flag known as 'Brahmadhvaj' in Sanskrit. The word Padwa or Paadvo comes from Sanskrit word 'Pratipada' which means the first day of a lunar fortnight. In Maharashtra, the most important activity of the day is hoisting of the Gudi.
A bright copper vessel known as Kalash is hung on the top of the flag pole which is bamboo stick. This represents the flag. The Kalash is anointed with Hindu sacred symbol 'Swastika'. Kalash is adorned with Neem and Mango leaves, garland of red and yellow flowers, and string of sugar candies known as Batasha or Gathi. The Puja thali consists of ingredients such as Haldi (Turmeric), Kumkum (Vermillion), Supari (Betel Nut), Sweets, Diya (Earthern Lamp), Nariyal (Coconut) and Phool (Flowers). Each of these ingredients have a symbolic meaning to it as given below. This is very interesting and captivating information that I loved to research on. It is so beautiful to know the scientific and spiritual relevance behind our Indian traditions.
Kalash (Copper Vessel): Scientifically, copper emits frequencies in upward direction. Kalash represents success and prosperity.
Mango and Neem Leaves: Neem leaves emit frequencies in all directions. Mango and Neem leaves are for detoxification purpose and are meant for the overall wellness of the family members.
Phool (Flower Garlands): Flowers represent sanctity and sacredness.
Batasha or Gathi (Sugar Candies): These are symbolic representation of sweetness in relationships.
Silk Cloth: It is a symbolism for prosperity and abundance.
Bamboo Stick: It represents the strength and purpose to preserve Nature.
Supari (Betel Nut): Supari represents the goal planning with positive affirmation.
Haldi-Kumkum (Turmeric -Vermillion): Haldi-Kumkum symbolizes long life for family.
Nariyal (Coconut): It symbolizes spiritual power and the Hindu trinity of Sri Brahma, Sri Vishnu and Mahadev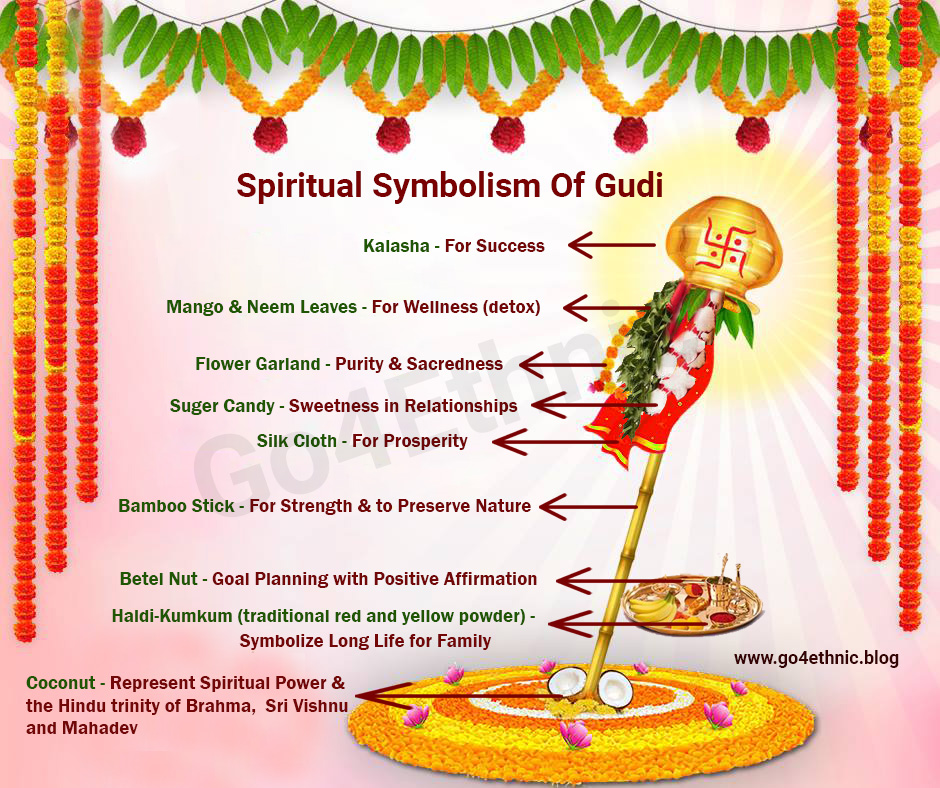 The Preparation of Gudi
Preparation of Gudi is most integral part of the activities on the day of Gudi Padwa. It is important to decide the position of Gudi. Care should be taken to raise the Gudi next to the main entrance; alternatively, Gudi can be raised outside the window. The spot selected for Gudi should be on the right side of entrance if possible when facing outwards from the main entrance. Do you know why right side is preferred? Because it symbolizes the active state of the Soul.
The Gudi is prepared by purchasing a new bright green, yellow or any colorful silk cloth preferably with a Zari brocade on it. The cloth is tied to a long bamboo stick. On top of the silk cloth, neem and mango leaves are tied, with a string of sugar candies (Batasha or Gathi) and a garland of colorful fragrant flowers. A copper vessel, Kalash is then placed inverted on the bamboo stick with all these elements. Pots of steel, silver and brass can also be used in place of copper.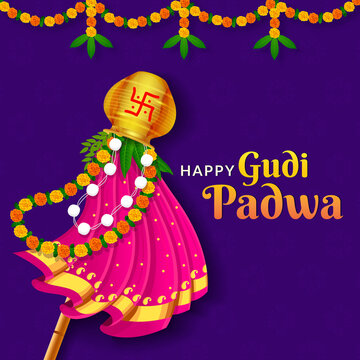 The Hoisting of Gudi
The area selected for raising the Gudi should be cleaned and anointed with Swastika using kumkum (Vermillion). Haldi – Kumkum (Turmeric – Vermillion) should be offered at the center of the Swastik. While raising the Gudi, one must chant sacred mantra to invoke the 'Shiv-Shakti' principle of the Universe. These enables all the constituents of Gudi to accept the divine consciousness. According to spiritual science, the divine consciousness emanates at sunrise and lasts longer. Hence, the Gudi should be worshipped at the start of dawn immediately after sunrise.
The subtle characteristics of the Gudi with reference to the spiritual significance is beautifully depicted in the picture below.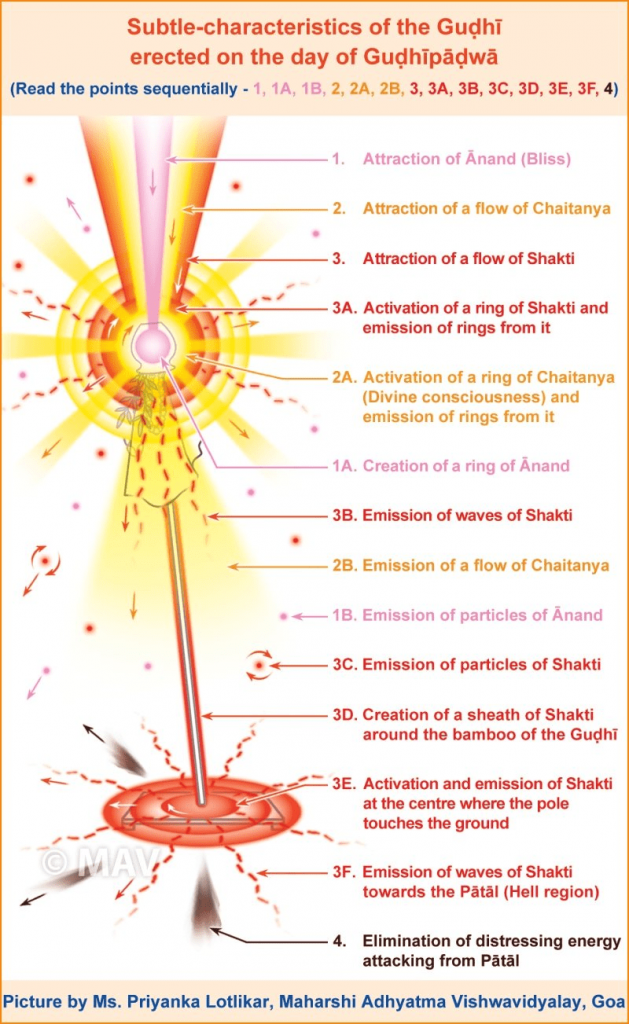 The Prayer While Hoisting the Gudi
One must recite prayer to invoke the divine.
'Om Sri Brahma, Sri Vishnu , Mahadev, please enable me to absorb the principle of creation and the Panchatattva (five tattvas) that are present in the Universe. Let this divine consciousness be preserved and this energy be used for my spiritual growth and enlightment.'
The Festive Celebrations in Gudi Padwa
In Maharashtra, the festive celebration start with thorough cleaning of the house and courtyards a day prior or on the day of Gudi Padwa. All the family members take bath at the crack of dawn, and wear new festive attire. Women and girls wear colorful and vibrant sarees with zari brocade, salwar kurti or any ethnic traditional attire. Women adorn themselves with ornaments rooted to their culture such as gold nose pins, , gold earrings, necklaces and anklets. Married women wear green colored glass bangles with golden kadas (type of bangle). Women and girls wear beautiful fragrant flower hair garland made of Mogra (Indian Jasmine). Men and young boys wear ethnic attire such as Dhoti kurtas.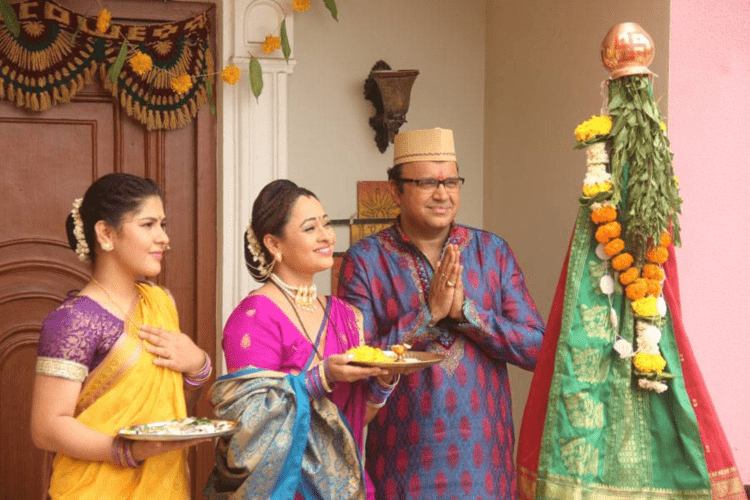 The hoisting of Gudi is incomplete without a beautiful Rangoli. Rangoli is a quintessential art form that is created to decorate home, courtyard and temple during auspicious Indian festival. Women and girls decorate the space around Gudi with creative vibrant Rangolis made of herbal colors, flowers or petals. Rangoli patterns include elements of trees, birds, leaves, elephants, fish, sacred symbols such as Om, Swastik, Mangal; other elements such flowers, lamps and many elements of Mother Nature. Rangoli created of vibrant colors or petals fill the ambiance with energy and enthusiasm.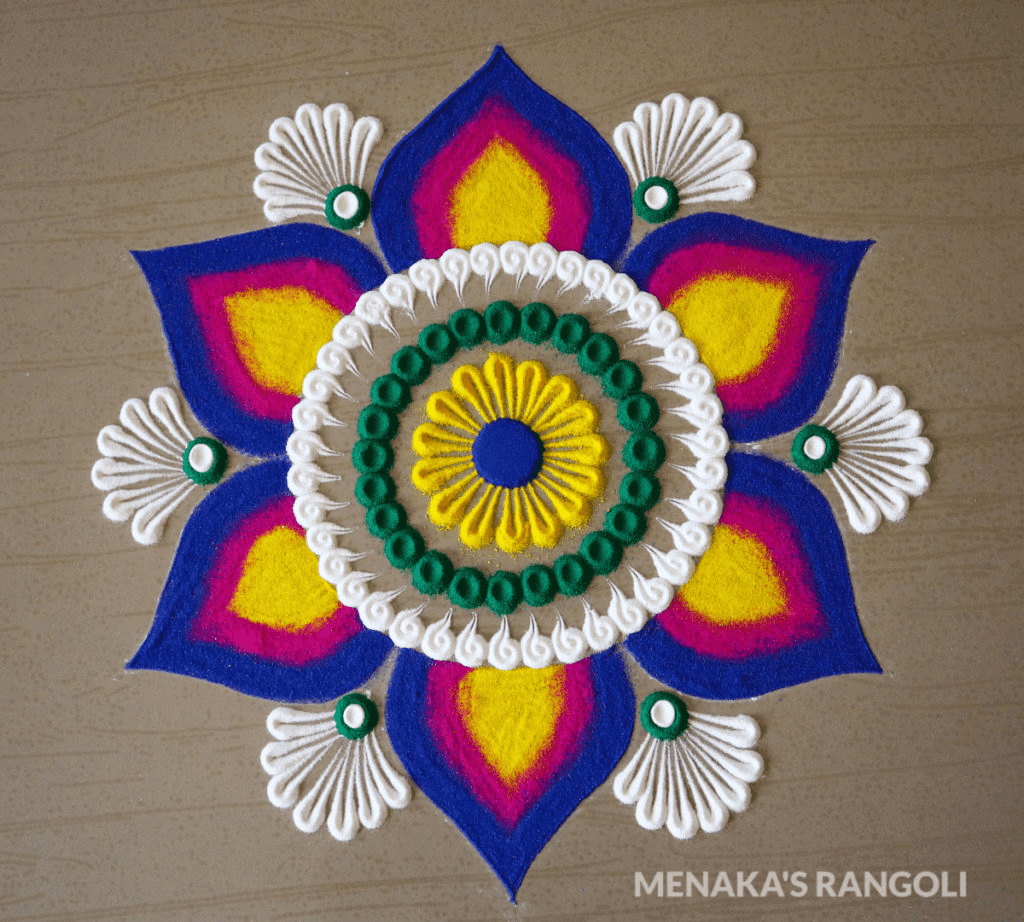 The elder of the family raises the Gudi and performs Puja to protect the family from all the difficulties and calamities. The Puja starts with the invocation of Sri Ganesha, Sri Lakshmi and Sri Saraswati. Offering made of Neem leaves and jaggery is distributed on this day. The combination of Neem and Jaggery symbolizes that life is filled with happiness and disappointments, joy and sorrow, opportunities and obstacles. Apart from this, Maharashtrian homes prepare lip smacking delicacies such as Puran Poli, Srikhand -Puri, Modaks, Ladoos, Basundi, Coconut Barfis, Kothimbir Vadi, Sabudana Vada, Alu Vadi, Batata Vada and many more delicious preparations.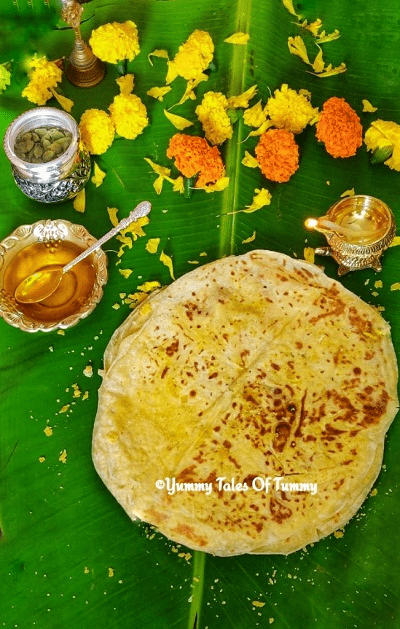 One of the fun-loving and festive activity is inviting friends and family at home for puja or festive gathering. Folks enjoy the festive merriment with all the sweet delicacies, participating in cultural functions organized in community groups or housing complexes. The whole purpose is to celebrate every auspicious moment of this day with near and dear ones.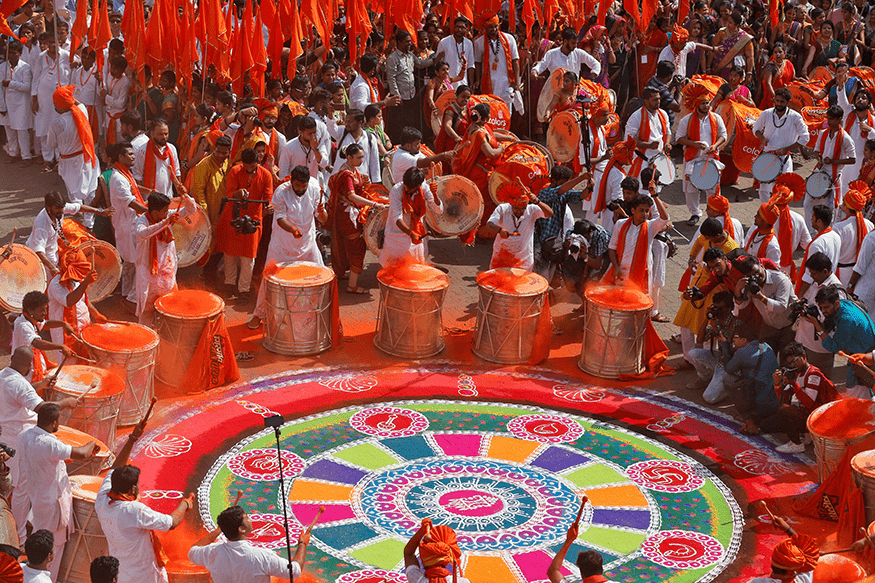 Gudi Padwa Wishes
Given the festive significance, greeting family and friends is the vital part of the celebratory activities. People greet their friends and family members in person, on phone or through social media messaging. Festive greetings are integral way of spreading happiness and remind the ones you love that your are thinking about them. Below are some of the festive greetings for Gudi Padwa in Marathi and in English.
Gudi Padwa Wishes in Marathi
वसंताची पहाट घेऊन आली,
नवचैतन्याचा गोडवा,
समृद्धीची गुढी उभारू,
आला चैत्र पाडवा..
गुढीपाडव्याच्या हार्दिक शुभेच्छा!
*******************************
सोनेरी पहाट,
उंच गुढीचा थाट..
आनंदाची उधळण,
अन सुखांची बरसात..
दिवस सोनेरी,
नव्या वर्षाची सुरुवात..
गुढीपाडव्याच्या भरभरून शुभेच्छा
*******************************
गुढी उभारू आनंदाची,
समृद्धीची, आरोग्याची,
समाधानाची आणि उत्तुंग यशाची,
नव वर्षाच्या शुभेच्छा..
शुभ गुढीपाडवा!
*******************************
नक्षीदार काठीवरी रेशमी वस्त्र,
त्याच्यावर चांदीचा लोटा,
उभारुनी मराठी मनाची गुढी,
साजरा करूया हा गुढीपाडवा..
नूतन वर्षाच्या हार्दिक शुभेच्छा!
Gudi Padwa Wishes in English
Gudi Padwa is a new beginning
Of dreams, hopes and happiness too
May this wonderful year bring
Success, surprises and happiness to you
Have a great Gudi Padwa.
On this great occasion of Gudi Padwa may you be endowed with Happiness, Health & Wealth. Wishing you and all Happy Gudi Padwa.
May this Gudi Padwa bring you a new spirit, a new beginning, and new prosperity. Wishing you a very Happy Gudi Padwa.
May this New Year heralds the advent of prosperity for you and your family. Happy Gudi Padwa!
May the flavour of raw mangoes, raw neem, and jaggery remove all bitterness and add sweet flavours to your life. Happy Gudi Padwa!
Celebrate the auspicious occasion of Gudi Padwa Amidst Fanfare & Religious fervor. May the day bestow on you & your family members. Wishing You A Prosperous Gudi Padwa!
On this auspicious occasion of Gudi Padwa, I wish you all Happy Gudi Padwa . May this festival bring abundance of joy, success and prosperity to you and your family. Hope you all enjoyed reading this blog. It took me hours of research and writing , if you liked reading it do share it with your friends and family. Drop me a feedback or comment which topics you would like me to cover and how did you celebrate Gudi Padwa? You can reach me at [email protected] or WhatsApp me at 91-9599825800 to be added to my subscriber list.
Stay blessed and stay happy 🙂