Globally, India is a known as a land of colorful festivals and fairs. The rich and vibrant festivals of India are reflection of our diverse traditions and culture. One such annual celebration is the Harvest Festivals of India. The month of January signifies the celebrations for Lohri, Makar Sankranti and Pongal. Today, I will talk about the significance of each of these festivals.
2022 – A year of new beginnings
It's 2022, and as we commence another trip around the Sun, we also begin new round of festivities. Since, we are not completely out of the clutches of COVID-19 Pandemic, some festive celebrations may be affected but we can hopefully celebrate the festivities at home in a small scale with our families.
Harvest festivals of India
Since agriculture is an integral and the primary source of livelihood for about 58% of India's population, harvesting is one of the most important events across the nation. Celebrating the harvest season is our way of thanking Sun God and Mother Nature for the bountiful crops offered to us. Harvest festival is not only about celebrating the bountiful crops but it also has great importance in celebrating the astronomical changes in the Solar system.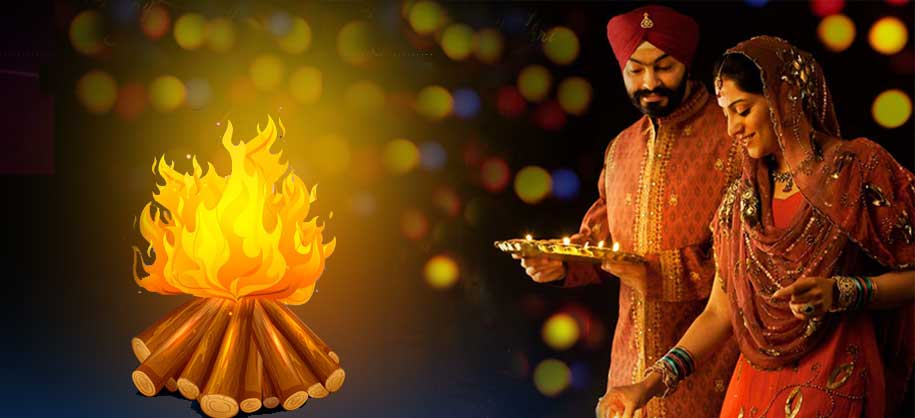 Lohri – festival of bonfire
Lohri celebrations commemorate the beginning of the harvest season. It is celebrated one day before Makar Sankranti in Northern states of India such as Punjab, Haryana, Himachal, Jammu and it's neighboring regions. Lohri marks the end of winter solstice and the augment of longer sunny days due to Sun's journey to the Northern hemisphere. The festival is celebrated with great fervor and grandeur across the country by Sikhs and Hindus. Traditionally, families gather around large bonfires, people dress-up in traditional attires, sing folk songs and dance around the Lohri bonfire and offer foods like rewri, gajak, popcorn, puffed rice and others into the fire as 'tributes' to the gods in exchange for blessings. Lohri is considered very auspicious harvest festival in India for newlywed couples and parents with newborn babies. Lohri is all about offering prayers and expressing gratitude to Agni (God of fire) and Suryanarayan – the Sun God for bounteous harvest.
Makar Sankranti – pan India solar festival
Makar Sankranti is one of the most celebrated Hindu harvest festivals in the Indian subcontinent. It is celebrated a day after Lohri. Makara' means 'Capricorn'. The movement of the sun into 'Makara Raashi' or the 'zodiac of Capricorn' is called Makar Sankranti. The festival marks the end of long cold winters and the onset of long warm sunny days. From the day of Makar Sankranti, the Sun starts moving in North direction which is also known as Uttarayana. Uttarayan is the most auspicious event considered as a sign of hope and positivity. On the festival day, people take dip in holy waters of Ganga, Yamuna, Godavari and Kaveri. Spiritual practices include offering prayers to Sun God.
On this auspicious day, women clean their houses and courtyards. A traditional custom of making rangolis at the doorstep and worshipping Sun God and other deities such as Maa Saraswati (Goddess of Knowledge) fill the air with spiritual energy. In addition, the shared cultural practices in different states is preparation of sweets made of Til (Sesame Seeds) and Gur (Jaggery). Interestingly, the use of sesame seeds have scientific relevance. Ayurveda says that sesame seeds absorb negative energies (tamsik) and emit positive energies (sattvik).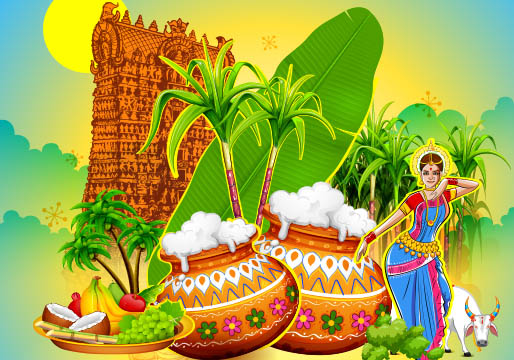 In Gujarat, Rajasthan and Maharashtra, kite flying is one of the significant activities on the day of Makar Sankranti. On this auspicious day, kites of various colors, shapes and sizes adorn the skies. As the Sun moves towards North, event also known as Uttarayan, it is believed that Sun's rays have positive medicinal effects on the body. After the cold long winters, when people come out in open to fly kites, they unknowingly get good exposure to Sun. It it this exposure to Sun that cleanses the body of all infections, cold, cough and dry skin.
Makar Sankranti is a day that marks the inception of enlightenment, peace, prosperity, goodwill and happiness.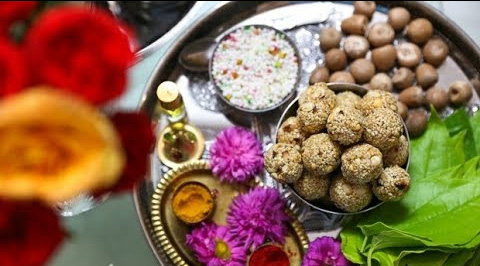 Pongal – The harvest festival of the South India
Pongal marks the onset of the first month of Tamil calendar. The festival symbolizes the start of Sun's six-month long journey northwards (Uttarayana). It is celebrated annually around January 14 each year. Hindus consider the date as auspicious and mark this as the beginning of sun's movement towards the zodiac Capricorn (Makarm Rashi). The festival derived it's name from the ceremonial sweet rice pudding "Pongal", which means "to boil, overflow". The festivities observe preparation of traditional dish from the new harvest of rice boiled in milk with jaggery (raw sugar).
Pongal signifies tribute to the Sun God for the bountiful harvest of crops. Festive celebrations include ritual bathing and processions, offering prayers in home and in temples, preparing delicious food, decoration of the houses with new items, worshipping Sun God and cattle, and decorating cows and their horns. Women follow customary traditions of making rice powder based beautiful Kolam designs using naturally or synthetically colored powders. People wear new clothes and spend time with family and friends. Pongal celebrations usually lasts for three or four days.
Bhogi Pongal – It is the first day of Pongal celebrated on 14th January. On this day, people celebrate new possessions and discard the the old belongings. People clean their house, paint them and decorate houses to give festive look. Prayers are offered to Lord Indra (God of the Rains), the horns of oxes and buffaloes are painted in the villages.
Surya Pongal – The second festive day is called Surya Pongal or Perum Pongal. As the name suggests, Sun God is worshipped on this day. The day marks the start of the Uttarayana. Traditionally, sweet rice pudding "Pongal" made from fresh rice, jaggery, and milk is prepared in earthern pots that are decorated with turmeric and flower garlands. Tall, fresh sugarcane stalks are placed next to the pots. During the preparation of Pongal, as the dish begins to boil, the cooks and participants blow a conch called Sanggu while other shout in joy "Pongalo Pongal" meaning "May this rice boil over". This expression is a symbolic to shared wish of greater fortunes ahead. Women folk sing "Kuruvai trills", traditional songs while cooking Pongal dish.
Mattu Pongal – Mattu Pongal is celebrated on the third day, a day after Surya Pongal. Mattu refers to "cattle" . Hindus revere cattle as sacred beings and offer great honor and respect to Cattle herd. On the day of Mattu Pongal, cattle are decorated with painted horns, flower garlands, and are offered special meals. People anoint cattle with Kumkum on their forehead and worshipped them. Others bathe their cattle and prostrate before them to express their gratitude.
Kanum Pongal – Kanum Pongal is celebrated on the fourth day of Pongal festival and marks the end of Pongal festivities. On this day, families and friends gather and organize social events to strength relationships and bonds. Community events are organized. People dress up in new clothes, exchange gifts, seek blessings from elders, and enjoy merry moments with friends and family. Traditional music and dance fill the atmosphere with ecstatic joy.
The harvest festival is celebrated by different names in different states, and while each state has unique traditions and customs, the spirit with which the festival is celebrated is the same i.e the enthusiasm, socializing, spiritual thoughtfulness and joyousness.
We at Go4Ethnic wish you all Happy Harvest Season. May this festivals bring great joy, happiness and prosperity to you and your family.
Let me know how do your family celebrate these festivals? Drop a comment, share pics of festive dishes, traditional attire, decorations and I would love to post them here. Do like and share this with you friends and family. Drop me a comment on [email protected] and I would love to hear from you.