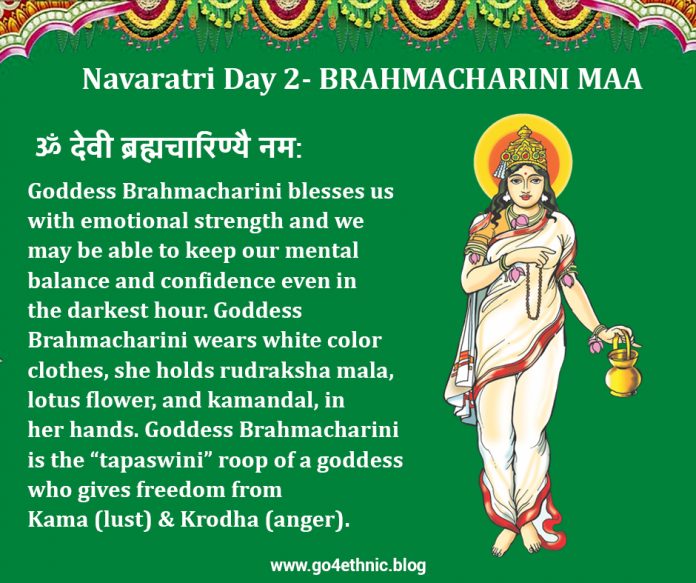 Maa Brahmacharini is worshipped on the Second day of Navaratri. Maa Brahmacharini performed strict 'Tapa' (penance). In Sanskrit, "Brahma" means Universal Self Spirit, Absolute Reality often used in connection to tapa or tapasya (penance) and "Charini" means performer. Brahmacharini means "Goddess who practices devout austerity". In the magnificent embodiment of Goddess Durga, She enlightens us with divine knowledge and grace. Brahmacharini Mata is also known by other names such as "Devi Yogini", "Uma", "Parvati", "Tapascharini" and "Aparna". According to Vedic texts, Brahmacharini is a feminine version of a Devi who performs sacred religious practices.
Maa Brahmacharini bestows the boon of love, loyalty, wisdom, and knowledge to Her devotees. Those who worship Her with utmost devotion, are blessed with calmness and happiness in their life. It is believed that she governs Planet Mars (Mangal). She is worshipped to remove Mangal Dosh and the problems resulting from unfavorable position of Mangal in the horoscope. Worshipping Maa Brahmacharini bestows devotees with values of devotion, virtues, nobility and solitude.
Brahmacharini Maa Vrat Katha
Maa Brahmacharini was born as Devi Parvati to Lord Himavan and Devi Menavati in the Himalayas. She blossomed in a beautiful princess, full of wisdom and grace.
There are many versions of legendary tales, but as mentioned in the Holy Puranas, Devrishi Narad influenced Devi Parvati with thoughts to marry Lord Shiva as Her divine consort. Devrishi Narad also guided Devi Parvati that the path to her reunion with Lord Shiva is not an easy one. She will have to practise tough tapasya (penance) to marry Supreme God – Shiva. Upon knowing Her predestined conjugal bliss with Lord Shiva, Devi Parvati's desire to reunite with Lord Shiva became even stronger. Her divine being in the Manavatar (Human life) was devoted to win the heart of Lord Shiva. Based on the advice of Sage Narada, Devi Parvati took up intense tapasya (penance) for one thousand years. It is the due to this tough and arduous penance that She got the name of "Tapascharini".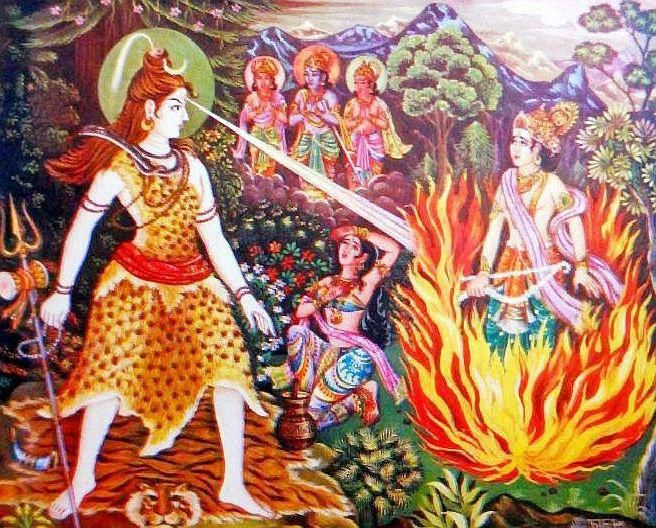 According to the Puranas, in the meanwhile Tarkasur – the demon king performed hard penance and pleased Lord Shiva. Tarkasur cunningly gained boon from Lord Shiva to be killed by only Lord Shiva's son. Pleased by Tarksur's penance, kind-hearted and benevolent Shiva granted him the boon. All the Gods and Goddesses were unhappy because Tarkasur was an evil demon and due to Bholenath's boon (Bholenath meaning -Innocent One, name of Lord Shiva), Tarkasur became more powerful and performed malevolent acts in Heaven and on Earth. Gods and Goddesses got worried that Lord Shiva is a hermit and so its only after His marriage, that Lord Shiva's child would kill Tarkasur. In order to invoke desire of love in Shiva for Devi Parvati, Gods and Goddesses took the help of Kamadeva (Hindu God of desire, love and attraction). When Lord Shiva was in deep meditation, Kamadev, arrives Mount Kailash and shoots arrows of love and desire on Mahadev. Due to Kamadev's disrespectful intervention, Lord Shiva opens His third eye in anger and burns Kamadev into ashes.
With complete devotion, Devi Parvati begins her austerity and tapasya. Despite the reluctance from Her parents (Lord Himavan and Devi Menavati), She pursues the path to ascetic life. She begins to live in the mountains, and like Lord Shiva, She engages in the same activities of asceticism – yogin and tapasya.
Devi Parvati, endures tough weather conditions during Her penance – changes of seasons, scorching heat, rain, cold, winter, storms none of the extreme conditions discouraged Her from continuing her tapasya. She embarked upon extremely difficult regime. For thousand years, She ate only fruits and flowers. Thereafter, as described in the puranas, for another 100 years, She ate only vegetables followed by another three thousand years, She ate only fallen leaves – Bilva leaves. She later stopped eating Bilva leaves too and merely lived on air. Due to such severe penance, She is called as "Aparna" (meaning "leafless" in Sanskrit). Devi Parvati continued severe penance and pushed her austerities to extremes for thousand of years, her body became extremely weak and fragile.
All the gods, goddesses, sages, rishis and munis venerated Devi Parvati's extremely tough penance. Lord Brahma was captivated by Devi's devotion and meditation. At this stage of Her tapasya, Lord Brahma blessed her and granted a boon that Devi Parvati in her unmarried form during Her tapasya stage will be known as "Brahmacharini".
Her ascetic life and arduous penance drew attention of Lord Shiva. Lord Shiva disguises Himself as a sage and tries to discourage Her. Devi Parvati, refuses to listen and continues with Her resolve. As Devi Parvati, continues Her penance, a demon named Prakandasura with an army of million asuras tries to attack Devi Parvati and break Her tapasya. Since Devi Parvati cannot breach the tapasya, Devi Mahalakshmi and Devi Saraswati, come to Her rescue to save Her from demon Prakandasura and his army. But they were unable to defeat so many demons. According to the legends, the battle continued for many days. Then the water in Devi Parvati's kamandal fell and washed away all the demons. Prakandasura continued his rampage. Devi Parvati opened Her eyes, the intense energy in the form of fire burned the demon into ashes.
All the celestial gods, goddesses, ganas, rishis, munis were impressed by Devi Parvati's immense tapasya. Lord Shiva was pleased with Devi Parvati's tapasya in the form of Devi Brahmacharini. Lord Shiva agrees to marry Devi Parvati.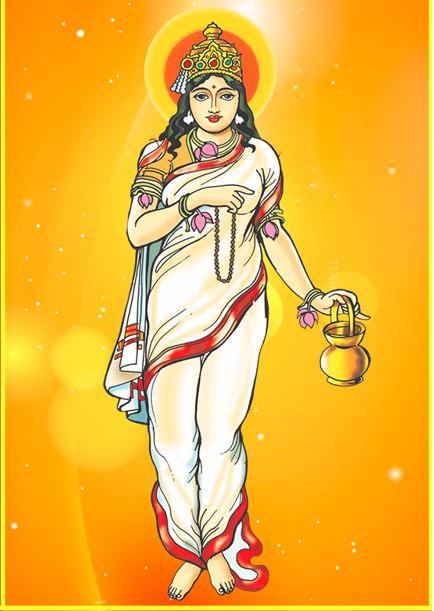 Appearance Of Devi Brahmacharini
Devi Brahmacharini is Devi Parvati's early phase before Her marriage. Devi Brahmacharini wears white saree which symbolizes purity. She carries Jaap mala (rosary) in Her right hand and Kamandal in Her left hand. Jaap mala represents devout meditation and concentration. Kamandal represents acceptance and water in the kamandal represents pure thoughts. She is depicted walking bare feet. Maa Brahmacharini wears lotus flowers in her neck and wrists. Lotus symbolizes knowledge. The flower grows from the mud of "ignorance" to seek the light of knowledge. Lotus grows above the water level, which depicts the spiritual growth of person. Such is the beautiful depiction of Lotus on Maa Brahmacharini. She adorns a prominent crown just like Goddess Durga. Despite her simplicity, She shares her magnificent knowledge. She has a pleasing smile and a radiant face full of grace.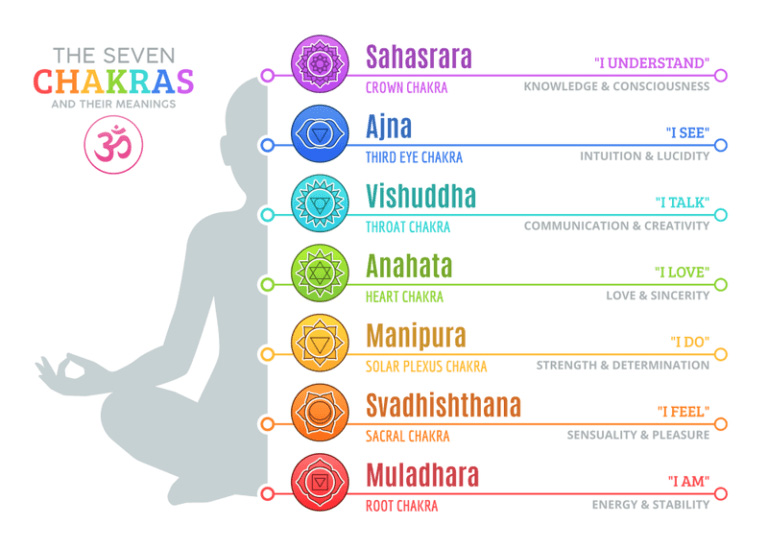 Goddess Of Svadhisthana Chakra
Svadhisthan chakra is the second chakra. It is the sacral chakra which is centre of pleasure, emotions, sexuality and sensations. Maa Brahmacharini represents one who practices devout austerity. Maa Brahmacharini symbolizes svadhisthan chakra in spiritual practice. One who meditates on Svadhishthana is believed to obtain siddhis like freedom from enemies, honesty and self-discipline, eloquence and clarity, knowledge, and words flowing like nectar in well narrated discourse along with awareness of astral entities.
Sadhaks and yogis keep their mind on svadhisthan chakra to maintain their dedication and devotion in steady phase. Concentrating on this chakra helps the spiritual aspirant move upwards in spiritual journey.
Worshipping Maa Brahmacharini
Maa Brahmacharini is worshipped on second day of Navratri. The pooja vidhi involves offering flowers, rice and sandalwood in Kalash that is established on first day of Navaratri during Ghatasthapana. If diety is worshipped in idol, She is given abhishekam with milk, curd and honey. If worshipped in image, she is garlanded with fresh flowers. Aarti is performed. Devotees offer prasad and chant mantra and stuti to offer obeisance to Devi Brahmacharini.
Maa Brahmacharini Mantra

Maa Brahmacharini Stuti

Maa Brahmacharini Dhyana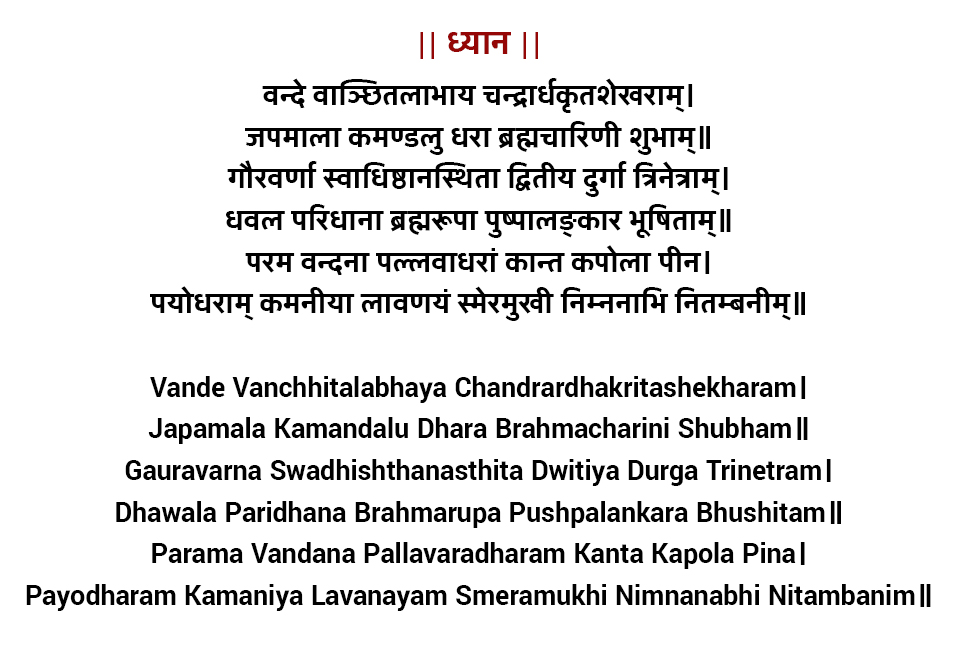 Maa Brahmacharini Aarti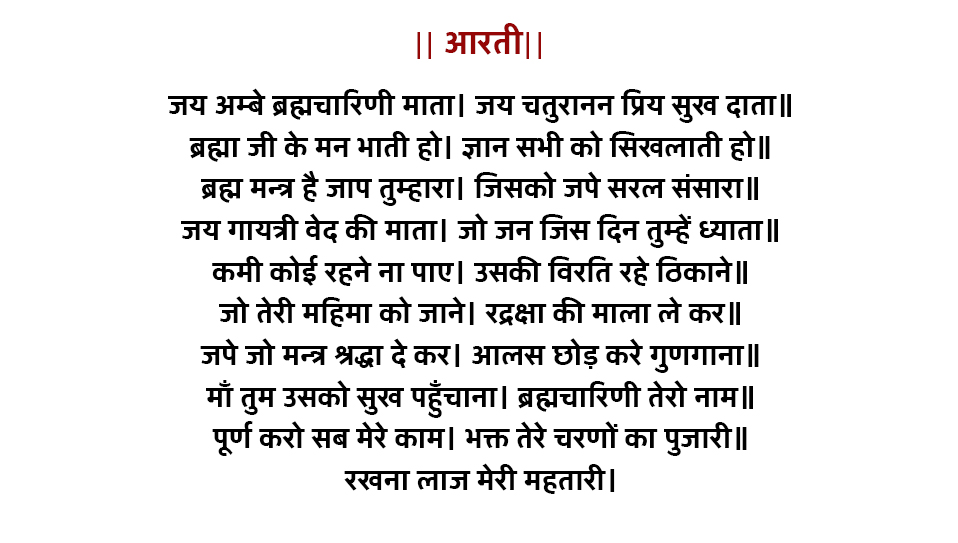 Message from Author: If you like reading my blog, please do share it with friends and family. Drop a comment below, would love to read your feedback. Stay blessed and stay happy. – Regards, Nimisha Sharma