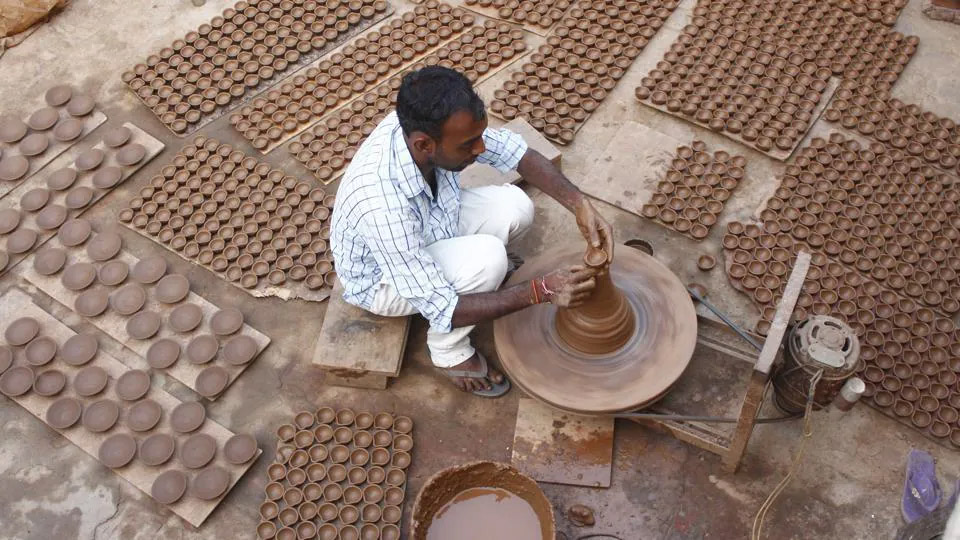 Diwali diyas, known as the traditional earthen lamps symbolize dispelling of darkness and the augment of prosperity, fortune, peace and wisdom by welcoming Goddess Laxmi at home and office. In this festive season, everybody adorns their homes and offices with all new elements of Diwali celebrations such as lanterns, diyas, torans (colorful door hangings), beautiful floral and colorful rangolis, string and fairy lights.
Diwali diyas, play an instrumental role in festive celebrations. Since time immemorial, Diwali is celebrated by traditional lighting up earthen diyas with oil/ghee in every corner and hallway of the home and office. But during the last few years, this traditional practice is slowly fading. Due to advanced technology and modern-day lifestyles, people in the metro cities are attracted to using latest designer lamps, candles and electric lights in the market. It is well-understood fact that with the changing times, our lives are technology driven but what we must all worry about is the dying art of our folklore. We must respect the interest of local artisans and preserve their niche skills. These age-old craft forms are not only eco-friendly but are a direct reflection of our traditional values and cultural heritage and have a strong influence on our roots. Hence, it is our responsibility to enliven and protect these art forms together with a noble cause of uplifting the artisan community.
Every year, Diwali is the most awaited festivals for the local artisans and craftsmen as they gear up to make maximum sales during the festive season. Most of these artisans and craftsmen come from Indian villages where they do not have any access to modern technology and infrastructure to promote their business. The major challenge for these rural artisans is the lack of education and money to uplift their business and skills. The younger generation of these artisan families migrates to metro cities in search of jobs with a hope to earn more money for their livelihood. As a consequence, there is a dramatic shift in handicraft industry where most of the ancient art forms are slowly dying in the hands of modern-day demands.
Months before the arrival of the festive season, artisans start spinning the wheels and prepare for Diwali well in advance. Potters today are getting very creative with the diya making and decorations. They use eco-friendly colors to paint the diyas and later decorate them with mirrors, beads, flowers, motifs and stones showcasing wonders of artistic hands with creativity and style. In local markets, artists and artisans sell these diyas at very affordable nominal prices. You will find local artists selling their artwork on the busy dazzling streets with all their creative products stocked up on the road-side temporary stalls. One intriguing thought that should cross our minds is if we can shell out big money for dining, clubbing, and shopping at the malls wholeheartedly, then we will not hesitate to spend some money buying these beautiful handmade creations from our artists.
Nothing can replace the divinity of the earthen lamp. It's one such traditional ritual that is engraved in our hearts right from our childhood days. Earthen lamps bring in the feeling of auspiciousness and calmness in everyone's mind and soul. We must appreciate the efforts and thank the creators of earthen lamps who bring us joy and happiness with their artistic creations.
So, the question we must ask ourselves is how much are we contributing towards social reforms of our local rural artisan brothers and sisters? This Diwali, let us all unite and come together to illuminate the homes of these diya makers by purchasing their handmade creations, and by keep our traditions alive amidst our modern techno-crazy lifestyles. With true spirit of Diwali in our hearts, let us all spread happiness and joy to everyone around us.
We wish you all A Very Happy, Blessed, and Joyful Diwali.