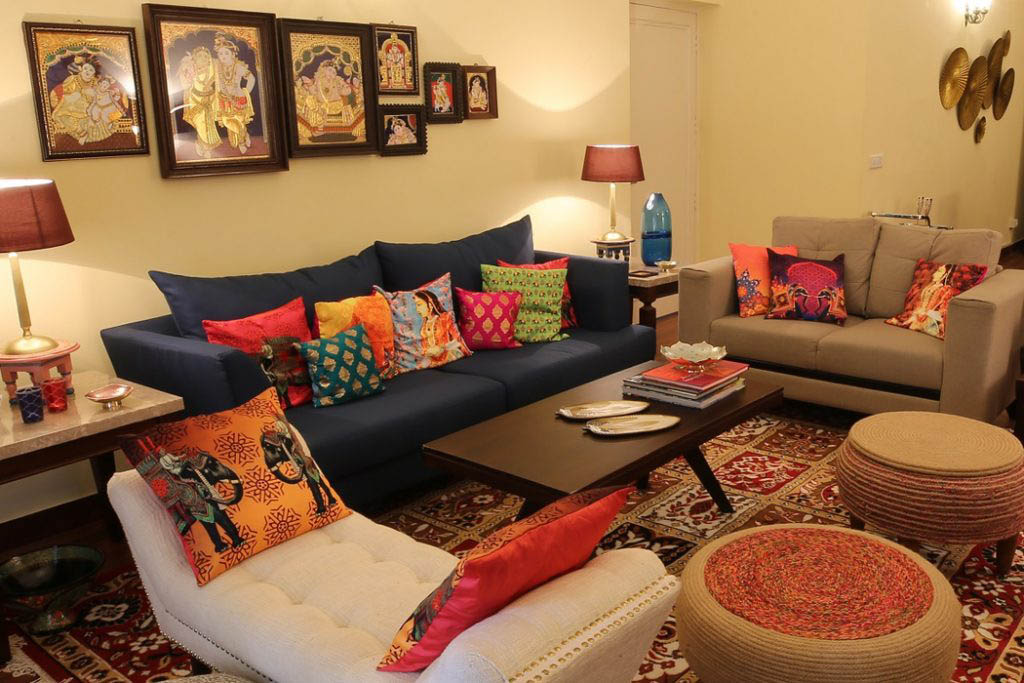 The festival of lights – Diwali is approaching and everyone is eager to make their homes festive ready to give a warm welcoming look with an appealing charismatic ambiance filled with glow and glamour. But in our daily humdrum, right from the break of dawn until dusk, our lives circle around the clock with our busy schedules and family commitments, and there is simply not enough time to get things ready for the festive celebrations. Well, the good news is, it's not too late to start your holiday preparations. There is no need of re-hauling and redoing of homes with new wall paints, new furniture or new curtains. To glide into that festive groove and happiness, we share with you some quick easy steps to make your home festive ready:
De-clutter your home: Let the spirit of festivities start by giving your home a fresh clean look. To bring in the abundance of positive energy and magical charm, de-clutter your home by throwing all the useless and expired items, clean your wardrobe by donating good clothes that you don't wear anymore and get rid of all the unwanted stuff that you have been hoarding all year through. After that marathon cleaning exercise, surely you will enjoy the pretty sparkling difference.
Make your home entrance festive ready: Diwali is the time to spruce up your home entrance to welcome Goddess Lakshmi, the bearer of well-being and fortune. It's an age-old tradition to decorate the entrance of the home based on the old adage 'Cleanliness is next to Godliness'. Clean and rearrange all things near the entrance area and replace the doormats with the new ones. To deck up the entrance space, decorate the doors with beautiful colorful torans (decorative door hangings), place traditional decorative lamps made of brass, clay or terracotta to be lit up during evenings for the mesmerizing spiritual touch.
Get creative with curtains: You can either buy ready-to-hook curtains matching your home décor or simply adorn your curtains with flower garlands, fairy lights or some mirror work to give it a gorgeous look. You'll be surprised to see a dramatic change in the look and feel of your room.
Give your abode a makeover look: To give your rooms a fresh new look, buy a few stained-glass artifacts/paintings. For that glittering hue, experiment with floor/roof lamps available in varieties of paper and stained glass. You may also plan to buy those twinkling string and fairy lights to give the focal point of the room a bit of highlight effect.
Get cozy with rich festive textiles: To add that extra aesthetic pleasure, jazz up your home décor with silk and brocade rich colorful cushions, pillow covers and table runners. The hand embroidered furnishings such as kantha, phulkari, suzani give an ethnic traditional festive look to the entire room. The dash of vibrant colors to match your curtains give a nice, elegant and charming look.
Polish your brass, copper, and silverware: Diwali is the great time to give your glass and metalware décor items nice sparkle and shine. Polish your antique pieces and enhance their beauty by decorating them with flowers or diyas to give them the festive glitter effect.
Rugs and Carpets: Matching rugs and carpets make your home look very pretty and cozy. It's not necessary to cover the entire floor with rugs or buy expensive woolen or silk rugs. Cotton and jute rugs with bright colors do the trick. In fact, cotton rugs are ideal as they stay warm in winters and cool in summers.
Diyas and Lanterns: Diwali, the festival of lights and the festival of diyas is regarded as one of the most important Hindu festivals symbolizing prosperity, spirituality, joy and festive cheer from the ancient times. Diwali decoration is incomplete without the diyas (decorative colored earthen lamps). The traditional diya lighting can be complemented with trendy diya holders available in colored glass, iron, wood, and decorated clay. You may also use your old diyas – just clean, paint and re-decorate them with glitters and dark shades. Diyas can be placed in a way that lits up your entrance and garden area.
Floating/perfumed candles: To celebrate the victory of positivity over negativity, illuminate and decorate every corner of your home with beautiful scented candles amidst bright colorful floral petals. These beautiful small candles not only make your home interiors colorful and aromatic but also enhance the festive spirit.
Rangolis: Rangoli is the soul of Diwali decorations. At the entrance of your home, make beautiful rangoli designs using vibrant herbal colors and adorn them with flowers and diyas. You can also buy rangoli stencils for a quick set up or use stickers for the long run.
Getting ready for the guests: Festive season brings a flock of family and friends for overnight stays. For all your fun-filled evenings of joy and merrymaking, be prepared with the list of easy to do recipes and of course with a festive feast of chocolates, pastries, snacks, and sweets to get indulged in the festive mood and delight.
So, if you are still not ready for Diwali, do not worry! All you need to do is prepare a checklist and put your creativity to work for this festive season.
We wishes you all, A Very Happy, Blessed, Joyous and Prosperous Diwali.